PAT supports the need for Charter of Economy
Khurram Nawaz Gandapur speaks on Charter of Economy seminar under LCCI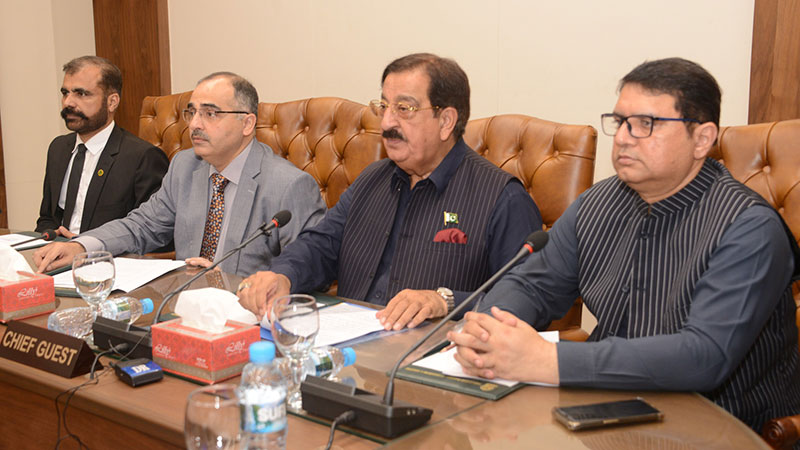 Speaking on the subject of the charter of economy organized by Lahore Chambers of Commerce and Industry, PAT Secretary General Khurram Nawaz Gandapur said that an economic advisory council consisting of the presidents of the chambers of commerce located in the different cities should be set up with an official status with a mandate to advise the government on economic affairs, and related legislation. He said that budget and key policy making should be done in the light of the suggestions of the advisory council.
Khurram Nawaz Gandapur suggested to the President of LCCI that the Chamber should invest in information technology and software development, adding that this sector provided a short-cut to end unemployment and steer the country out of the economic crisis. He said such students should be given laptops that are getting education in information technology. He said that PAT supports the LCCI's proposal of Charter of Economy.
On his arrival, Khurram Nawaz Gandapur was received by President LCCI Kashif Anwar and the members of the executive council. The PAT delegation consisted of Noorullah Siddiqui, Rashid Chaudhry Advocate, Altaf Randhawa, Naveed Butt, and Rana Manzoor Ahmad Khan.
President LCCI Kashif Anwar thanked PAT for supporting the proposal of Charter of Economy. He congratulated Shaykh-ul-Islam Dr Muhammad Tahir-ul-Qadri not only included education, training and technology not only the manifesto of his organization but also established educational institutions to promote IT. He also appreciated the services of Dr. Hassan Mohi-ud-Din Qadri and Dr. Hussain Mohi-ud-Din Qadri for the promotion of education, learning and research. He said he had the opportunity to meet and interact with them several times and found them very knowledgeable and decent.
Kashif Anwar said that the Chamber wrote to all political parties to start a dialogue and support efforts for the Charter of Economy. He said that overseas Pakistan will have to be convinced to send their remittances through banks, adding that there was a shortfall of about $5 billion this year. He also highlighted the need for reducing the non-development budget to overcome the economic crisis. He said that the economy cannot sustain loss-making State-Owned Enterprises and stated that in addition to privatizing them, there is a need for massive effort to expand the tax base.
President LCCI said that our economy cannot bear the heavy cost of climate change and natural catastrophes such as floods. He said that the country suffered a loss of $30 billion as a result of flash floods in 2022. He said that we need a water policy to take care of flooding and preserve this precious resource for agriculture. He also said that a skilled workforce will accelerate the process of economic development besides being a top-quality resource for export to the gulf and other countries.