PAT awards tickets to 100 candidates for Punjab Assembly election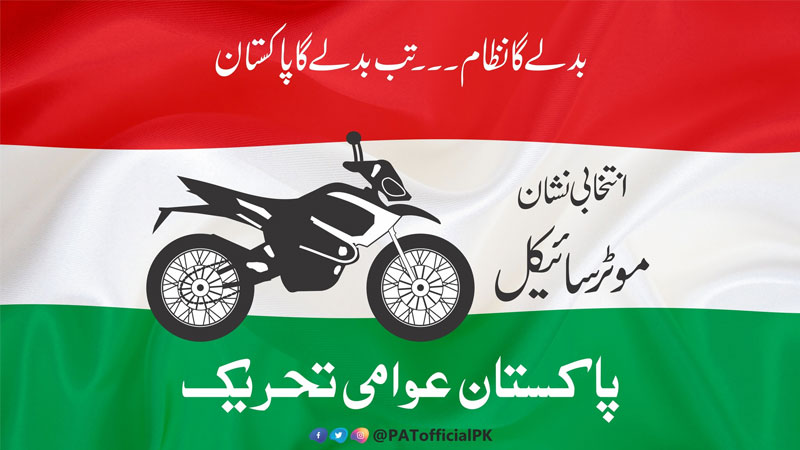 Pakistan Awami Tehreek has issued the final list of its candidates who have been awarded party tickets for the Punjab Assembly elections. On the directions of the party, 100 candidates submitted their nomination papers with the Election Commission of Pakistan.
Those contesting elections on PAT's ticket include Muhammad Azam Gondal from PA 77 Mandi Bahauddin, Hakim Saifullah from PP-68, Saith Muhammad Ayub from PP-70, Mehr Sohail Abbas Supra from PP-93, Mumtaz Ali Qadri from PP-95, Mehr Muhammad Sohail Kallu from PP-96, Ghulam Mustafa Sanghaira from PP-98, Khan Zafar Mahmood Khan from PP-99, Rana Hafiz Muhammad Usman from PP-104, Mian Rehan Maqbool from PP-97, Rana Abdul Jabbar from PP-106, Basharat Jaspal from PP-107, Hafiz Rubnawaz from PP-110, Mian Kashif Mahmood from PP-112, Allama Saeed Kawish from PP-113, Muhammad Ayub Qadri Ansari from PP-114, Mahmood Yasin Bhatti Advocate from PP-115, Muhammad Ashraf Qadri from PP-116, Malik Sarfraz Qadri from PP-117, Chaudhry Sohail Shaukat from PP-118, Rana Idrees from PP-119, Raja Iftikhar ul Hassan Janjua from PP-121, Mian Sajjad Masood from PP-122, Mehr Sajjad Anwar Marali from PP-128, Tahir Abbasi from PP-129, Saleem Qadri from PP-130, Malik Karmat Ali Mangotra from PP-135, Rana Muhammad Jamil from PP-136, Abdul Qayyum Lodhi from PP-137, Nadeem Joya from PP-138, Abdul Hameed Mustafvi from PP-140, Mian Muhammad Hanif from PP-175, Muhammad Ashraf Zaigham from PP-176, Shabbir Ahmad Bhatti from PP-177, Iqbal Sajid from PP-178, Dr Muhammad Arshad Siddiqui from PP-179, Rana Muhammad Ashraf Advocate from PP-180, Ms. Ambar Satara from PP-183, Qari Mazhar Farid Sial Advocate from PP-184, Khalid Mahmood Siddiqui from PP-185, Chaudhry Ali Hasnain Sangoonka from PP-186, Malik Muhammad Akhwan Awan from PP-187, Chaudhry Ghulam Sarwar Gujjar from PP-188, Hafiz Mudassar Hanif Qadri from PP-189, Dr. Chaudhry Muhammad Rafi Kamboh from PP-190, Haji Muhammad Aslam Bhatti from PP-191, Mian Israr Hussain from PP-192, Rana Ghulam Mustafa Faridi from PP-193, Mian Mushtaq Ahmad Bhatti from PP-194, Rao Taraf Khan from PP-196, Silwat Shahzad Paracha from PP-197, Rao Tariq Shahzad from PP-198, Mian Liaqat Ali Kathia from PP-199, Chaudhry Naseer Qadir Gujjar from PP-200, and Walayat Ali Rehmani from PP-201.
The parliamentary board of PAT concluded the interviews of the interested candidates and directed them to accelerate the mass contact campaign. The PAT spokesperson made it clear that the party's candidates will contest the election on the symbol of a motorbike.