Country stuck in a blind alley for not implementing Dr Qadri's reforms: PAT
مصطفوی تعلیمات کے تابع ہی ایک تعمیری ومثبت اقدار والا معاشرہ تشکیل پا سکتاہے۔ 23دسمبر 2012 کے روز پاکستان کے لاکھوں خاندانوں نے مینارِ پاکستان جمع ہوکر مصطفوی معاشرے کی تشکیل کاجو خواب دیکھاتھا اسے تعبیر کے قالب میں ڈھالنا سوسائٹی کے ہرطبقہ کی ذمہ داری ہے۔#سیاست_نہیں_ریاست_بچاؤ pic.twitter.com/f2hQVUjKq0

— ڈاکٹر طاہرالقادری (@TahirulQadriUR) December 23, 2022
PAT central President Qazi Zahid Hussain said that MQI founding-leader Dr Muhammad Tahir-ul-Qadri gave the nation awareness about saving the state, not politics at a mammoth public meeting at Minar-i-Pakistan on December 23, 2012. He said that he identified the malaise afflicting the body politic of Pakistan and suggested a cure in his historic speech on the occasion. He also recommended a formula to make the electoral system functional by purging it of fraudulent practices. He said that we are stuck in the blind alley for not accepting the recommendations of Dr Qadri for reform of the system.
PAT president said that the then rulers walked back on the written agreement they had signed with PAT about the electoral reforms in January 2013, a situation that has plunged the country into economic and political deadlock, institutional clash and the loss of national confidence. He said that there is still time to prioritize the interests of the state over those of the elite which is possible by ridding the body politic of the cancer of corruption and rigging.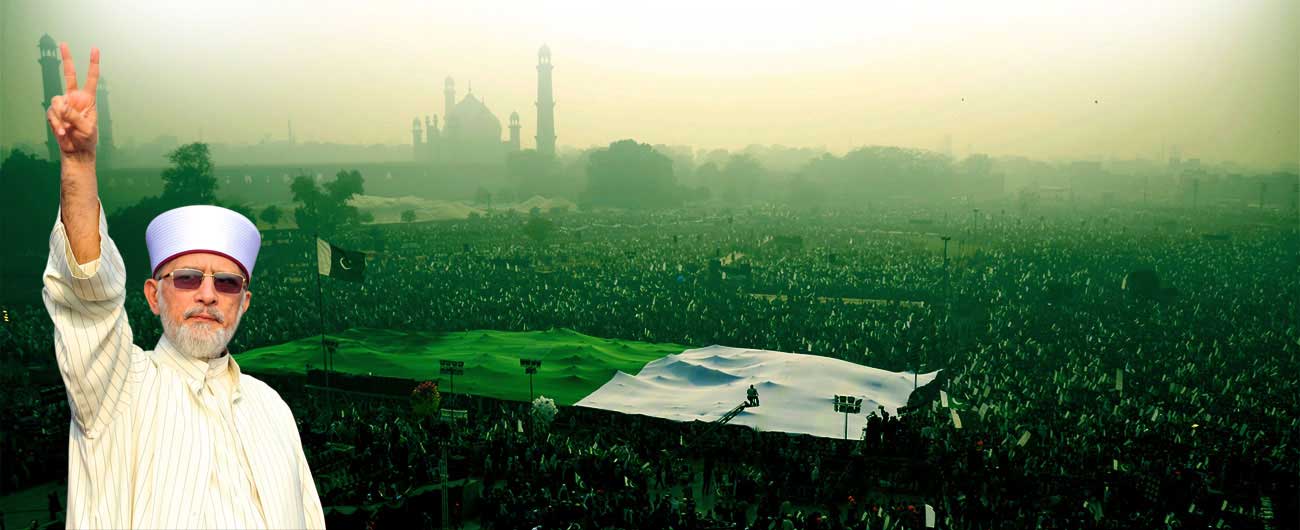 Meanwhile PAT Secretary General Khurram Nawaz Gandapur said in a statement that hundreds of thousands of people belonging to Pakistan's middle class actively participated in the December public meeting at Minar-i-Pakistan and the long march to Islamabad in January 2013. Their participation, he said, represented a demand for electoral reforms and a disdain for the prevalent system as they considered it protective of the interests of the elite at the cost of the common man.
Khurram Nawaz Gandapur said that had the rulers correctly assessed the mood of the masses who took part in the PAT public meetings and taken remedial steps accordingly, Pakistan would not have been standing on the brink of default it is at the moment now. He said that Pakistan deserves to be looked at from the lens of the people instead of the politicians, stating that this is the only way forward for making the system pro-people.