Khurram Nawaz Gandapur visits Sargodha Chamber of Commerce & Industry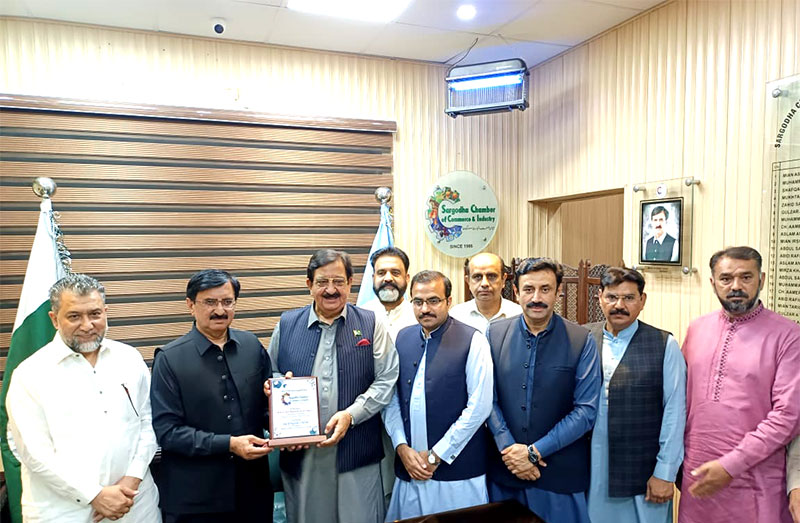 PAT Secretary General Khurram Nawaz Gandapur visited the Sargodha Chamber of Commerce and Industry (SCCI). President and the office-bearers of the Chamber warmly received Khurram Gandapur on his arrival. He visited different departments of the Chamber and got a briefing about their working from the office-bearers.
Talking to the members, traders, businessmen and the office-holders of the Chamber, Khurram Nawaz Gandapur said that it is a matter of great honour for him to visit the SCCI. He lauded the role of the Chamber in generating economic activities and contributing to the economic development of the country. He said that he is happy to learn about the actions that the SCCI has undertaken to support the business community and the people during the challenging economic times.
Khurram Nawaz Gandapur said that the traders, industrialists and business people have a fundamental role to play in the economy. He said that their facilitation and effective participation is critical to the national growth and development. He said that the country cannot achieve economic self-sufficiency without empowering the business community. He said that unless we increase our exports and decrease imports, we will continue to face one economic crisis after the other, stating that it is here that the business community can play a very vital role.
PAT Secretary General emphasized the need for more collaboration between the Pakistani business people and the foreign counterparts. He said that the government should support and facilitate the business community to explore markets for their exports so that they cannot only increase their production but also earn precious foreign exchange. He said that the issue of unemployment will be overcome only when the private sector can generate sufficient jobs, which in turn depends on the enhancement of economic activities.
Khurram Nawaz Gandapur briefed the office-bearers of Sargodha Chamber of Commerce and Industry about the educational and welfare services of MQI. Haider Manzoor Tarar, Raja Sohail Amjad, Khalid Khan, Mian Tariq Yaqub, Mian Majid Hayat, Iqbal Kashif, Mahr Muhammad Ashraf, Sadar-ul-Hassan Paris and Zulifqar Ali were also present on the occasion.