Sardar Umar Daraz Khan appointed PAT's Deputy Secretary Coordination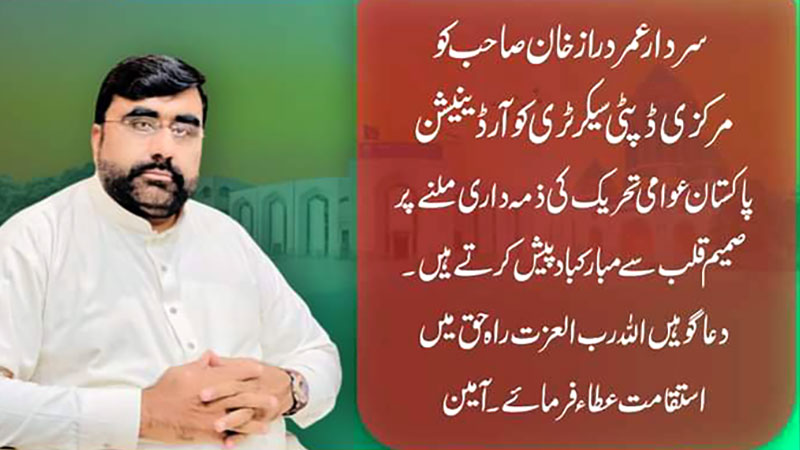 PAT leader Sardar Umar Daraz Khan has been given the responsibility of Deputy Secretary General Coordination of the party. PAT Secretary General Khurram Nawaz Gandapur has issued a notification in this regard.
PAT vice-president Raja Zahid Mahmood, central Punjab president Mian Rehan Maqbool, central secretary information Noorullah Siddiqui, Arif Chaudhry, Qazi Shafique, Noor Ahmad Sahoo and others have congratulated Sardar Umar Daraz Khan on his selection for an important position. They said that Sardar Umar Daraz is a wise senior leader who has a deep understanding of politics.
The PAT leaders said that the party will become strengthened and politically more active. They further hoped that Sardar Umar Daraz will play his role to organize the party's local cadres.
PAT Secretary General Khurram Nawaz Gandapur said that PAT's politics is meant for the progress, stability and progress of Pakistan. He said that we have waged a peaceful struggle for supremacy of the Constitution and protecting the rights of the poor. He said that the corrupt political system is the biggest enemy of the people of this country, adding that as long as the system remains in vogue, no change would come about. He expressed his best wishes for Sardar Umar Daraz Khan.