Quetta: Injustice leads to disappointment: Khurram Nawaz Gandapur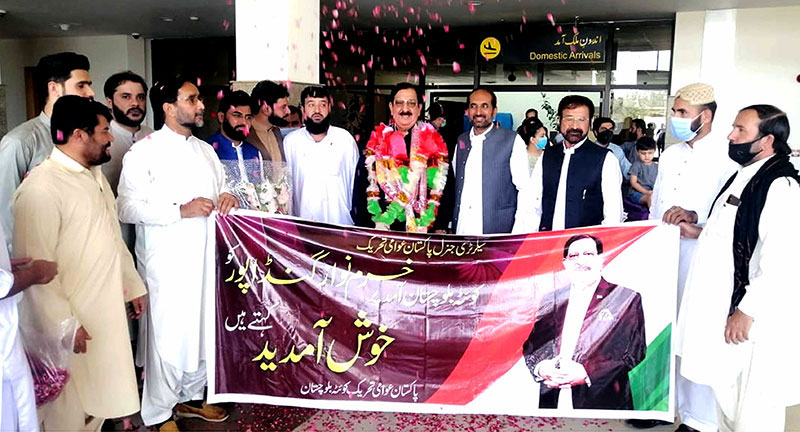 Senior PAT leader Khurram Nawaz Gandapur reached Quetta on a day-long tour. Talking to workers at the Quetta airport, he said that the constitutional and legal experts should analyse the Model Town tragedy case as a case study. He said that the present system supports the powerful against the weak. He said that someone at least needs to come forward and take notice of why the oppressed of the Model Town tragedy continue to remain deprived of justice.
Khurram Nawaz Gandapur said that it is the only case of Pakistan's history in which innocent citizens were massacred through planning but the justice system is unable to provide justice despite solid and interconvertible evidence. He said that such a case study if carried out, will make it abundantly clear as to how the weak and disadvantaged sections of society are kept deprived of their basic rights including the right to justice, and how the powerful can get away with their excesses.
Khurram Nawaz Gandapur referred to the remarks of acting Chief Justice of Pakistan Mr.Justice Umar Ata Bandial wherein he asked the state to take solid steps for the protection of life and property of the citizens. He said that when the governments fail to deliver on their duty on this count, the courts come into action, adding that solid steps need to be undertaken for the provision of justice as well so that no one considers himself above the law.
PAT leader said that the families of the martyrs of the Model Town tragedy have not been able to get justice despite the passage of seven years. He said that the directions given by the Supreme Court of Pakistan to the subordinate judiciary are not implemented in letter and spirit nor is any notice of the lack of implementation taken.
Khurram Nawaz Gandapur reminded that the Supreme Court had directed to settle the appeal of the Model Town JIT preferably in three months but the same order has not been implemented to date. He said that benches are formed and then get dissolved but the oppressed remain deprived of justice. He said that the lack of justice breeds insecurity and disappointment. He said that the Model Town case is being subjected to legal technicalities. He said that our job is to get the services of the best lawyers and assist the court in the provision of justice but the duty to dispense justice lies with the courts of law.