PAT leaders congratulate the nation on Independence Day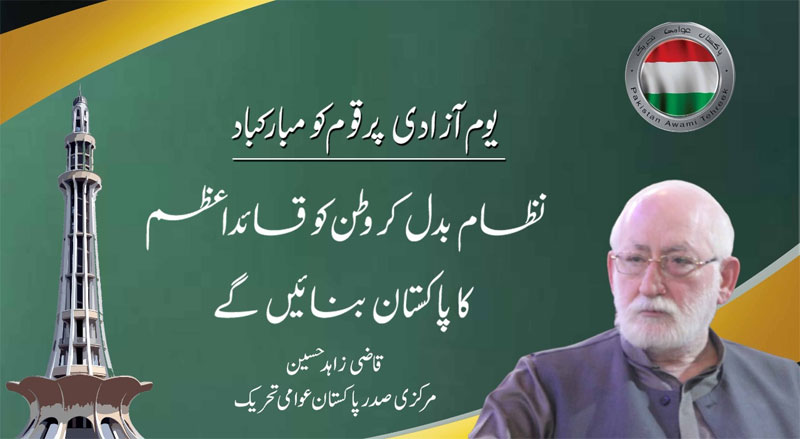 In a statement on Independence Day, central President PAT Qazi Zahid Hussain has said that 220 million of Pakistan have immense love for their motherland. He said that the 14th of August is not just a day of celebration but also of deep reflection and self-accountability. He said that while we take care of our own stakes life, we need to ponder as to what we did for our motherland. He said that corruption and misgovernance of the political elite have undermined the Pakistani ideology. He said that the nation should make a pledge today that they will not bear any corrupt element in the political and constitutional corridors. He said that PAT is the strongest of voices calling out for the change in the system. He said that the country can be recast in the image of Quaid's thoughts and ideas if we change the prevalent system.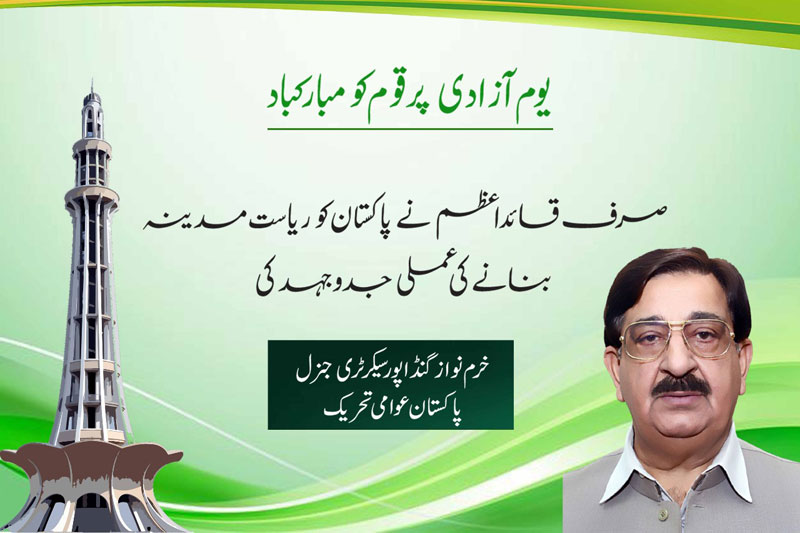 PAT Secretary General Khurram Nawaz Gandapur congratulated the nation on the country's 14th Independence Day and said that the Quaid-i-Azam led the struggle for the establishment of a separate homeland for Muslims of the sub-continent. He said that the meaning of Riyasat-i-Madina is the rule of law, protection of life, honour, and property, and the delivery of justice. He said those who looted Pakistan and undermined the country's interest will become an example due to their misdeeds.
In their message, PAT central Punjab president Mian Rehan Maqbool, South Punjab President Noor Ahmad Sahoo, and Northern Punjab President Qazi Shafique-ur-Rehman stated that the path of progress and prosperity showed by Dr Tahir-ul-Qadri is constrained by the corrupt system. They said that PAT's vow on the 74th Independence Day is to double down on its efforts to change the rigged and rotten system and make Pakistan a developed country.
PAT leaders, namely Basharat Jaspal, Raja Zahid Mahmood, and Arif Chaudhry also felicitated the nation on the 14th of August and said that the future of Pakistan is bright and those who damaged the country will be held to account for their actions.