Funeral prayer for Hamayun Bashir offered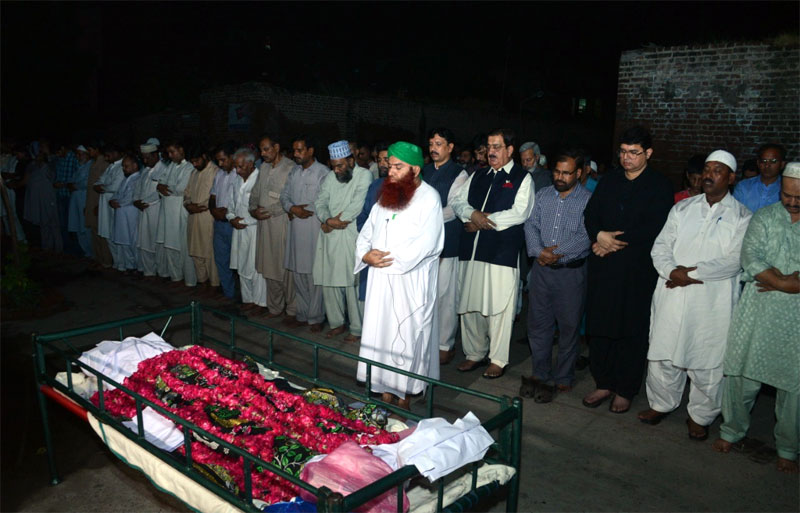 Hamayun Bashir, who was in prison in connection the protest over Model Town tragedy, breathed his last due to kidney failure. His funeral prayer was offered in Lahore. He was one of the 107 PAT workers arrested by police and handed down a punishment of five-year jail term by the anti-terrorism court.
PAT Secretary General Khurram Nawaz Gandapur, Noorullah Siddiqui, Jawad Hamid, Tayyib Zia, Hafiz Ghulam Farid, Ishtiaq Hanif Mughal, senior PAT and MQI leaders and a large number of workers attended the funeral prayers.
After the funeral ceremony, Khurram Nawaz, while speaking to media, said that the kidneys of Mian Hamayun Bashir failed due to lack of timely medical treatment and the negative attitude of the jail authorities. He was on dialysis for the last two months. He said that the bail application of the deceased was pending a hearing in the Lahore High Court for last five months.
Khurram Nawaz Gandapur said that 106 of our workers remain in jail to date for exercising their legal right to peaceful protest but the killers of 14 innocent people remain at large. He said those who looted the country are being extended facilities in violation of the jail manual, whereas the poor inmates are being pushed into the mouth of death. He said the poor prisoners were punished for the crimes they did not commit. He said such prisoners neither get medical facilities in jails nor their appeals are heard on time. He asked if it was the change and the rule of law.
PAT Secretary General said that there are dual justice and legal systems in the country. He said the workers were punished on the orders of the Sharif brothers. He said Hamayun Bashir died at 6 am but his dead body was handed over at 6 pm in the evening, adding that the police's conduct was shameful worthy of the strongest condemnation.