Press Conference: Dr Tahir-ul-Qadri questions government's privatization policy, prescribes 15-point formula for privatization
DailyMotion

Playwire
Pakistan Awami Tehreek (PAT) leader Dr Muhammad Tahir-ul-Qadri has said that Pakistan is entering an important phase in terms of its existence. He said that the rulers were buying big public sector enterprises in the name of privatization from behind the scene, adding that the PML-N government, in its first tenure in 1991, distributed ten state-owned, profit-making enterprises among its supporters, relatives and business partners of its leadership. He said that true to pattern, the government, in its second stint in power from 1997 to 1999, gifted six public sector enterprises among its political cronies through their privatization. He said that the country got a benefit of Rs. 800 billion due to honesty of Hussain Laghari, the president of Muslim Commercial Bank, during the first government of Mohtarma Benazir Bhutto. He said that in 1997 upon assuming power, the PML-N government meted out such an 'exemplary' punishment to Hussain Laghari for his honesty that he decided to leave this country.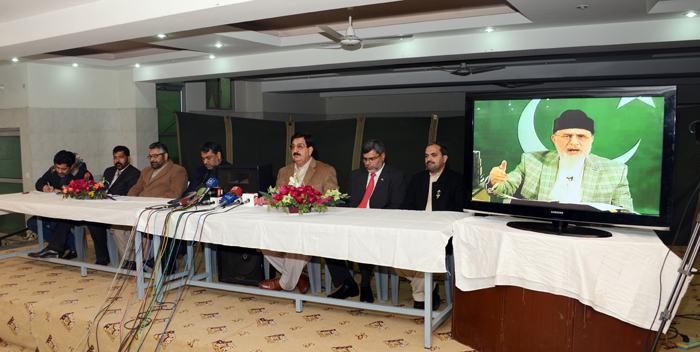 Dr Tahir-ul-Qadri expressed these views while addressing a crowded video press conference at the PAT central secretariat in Lahore. He said that the so-called Privatization Commission would commit robbery by selling the national assets during the dark of night, adding that nation assets were the trust of the nation and the Quaid-e-Azam. He warned that if robbery was committed in the name of privatization and the national assets were put on the loot-sale, it would lead to people's revolution earlier than expected. He said that people would cancel all shady privatization deals after revolution and asked the potential buyers to remain watchful on this count.
Dr Qadri said that he had no objection to the credentials of Zubair Umar, the Chairman of the Privatization Commission (PC) but to the very manner of privatizing the state-owned entities. He said that Zubair Umar was the elder brother of PTI leader and MNA Asad Umar. He said Zubair was an important member of PML-N's core committee. He said that the rulers appointed their staunch party man as the Chairman of the Privatization Commission, which was a conflict of interest. He said that the Commission also had Umar Farooq, one of leading industrialists of Punjab as its member who was the chief financer of PML-N. He asked as to why those who raised the slogan of change and parliamentarians were keeping mum, adding that it was left to Tahir-ul-Qadri alone to always unearth conspiracies against Pakistan. He further said that Muneer Kamal, a member of the Privatization Commission, was brother of Asad Umar and Zubair Umar. He said that he was removed as member of the PC and appointed as the Chairman of the National Bank of Pakistan. He said that Kamal was also a candidate for the post of the President of the National Bank.
Dr Tahir-ul-Qadri further revealed that Chaudhry Arif Saeed was brother of former Federal Minister Ahmad Mukhtar. Arsala Khan was General Secretary of PML-N Mardan, while another member Zafar Iqbal Shobani was a close friend of the Prime Minister. He said that the Privatization Commission was a gang of yes men having manifest conflict of interest and no credentials to ensure transparency during the privatization process. He said that privatization was carried out in UK, India, France, Australia and Canada and the process was ardently supervised by the leading politicians in those countries. He said that politicians should not be part of the process of selling and buying state-owned entities.
Dr Qadri said that the rulers had got a mandate of selling out and looting the resources after the elections of May 2013. He proposed 15-point formula to ensure transparent privatization by well-renowned firms of global repute. He said that the members of the PC should be tax paying people. He demanded that a Commission be constituted with the retired judges of the Supreme and High Courts with impeccable credentials as its members. He said that there should be open public debate instead of hidden trading in the closed meetings. He said that a stipulation of 10-year experience should be prescribed for the buyers before bidding for a particular entity. He further said that tax evaders and loan dodgers should not be okayed as potential buyers.
Dr Muhammad Tahir-ul-Qadri said that the national assets were not personal property of the Prime Minister that they could be sold in the dark of the night. He said that privatization matters should be governed by an Act of Parliament. He asked the media and Parliament to highlight this issue as it was their responsibility being important pillars of the state. He said that the people should not watch the spectacle to pass before their eyes, adding that they should play a proactive role to end loot-sale, corruption, and lawlessness. He said that no one could stop him from coming to Pakistan. He said that he would go to every nook and corner of the country and awaken people from slumber. He said that corruption and loot of resources figured high on the agenda of the ruling elite, adding that they could not ensure peace in the land.
Dr Qadri said that the talks were meant to hoodwink people. He said that the issues of terrorism and Pervez Musharraf were being highlighted with a view to distracting people's attention from the planned assault on the state resources. He said that he was not against privatization, adding that what he emphasized was transparency and fair play. He said that it was still to be determined with complete honesty as to which entities needed to be put on the privatization list and which ones were to be retained by the public sector.