Countrywide celebrations were held on the occasion of the 34th foundation day of PAT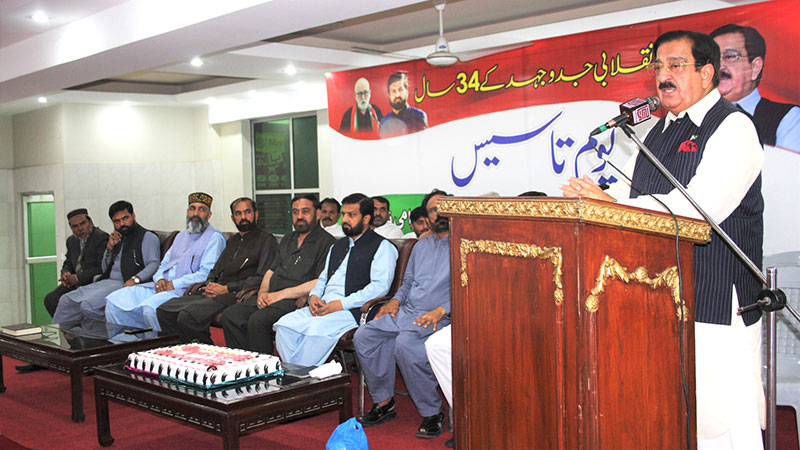 Countrywide celebrations were held on Thursday, on the occasion of the 34th foundation day of Pakistan Awami Tehreek (PAT), with holding ceremonies and seminars at central, provincial, and district level and in the educational institutions affiliated with the party.
Prayers were offered for national security and prosperity and flags were hoisted at party offices. The central flag hoisting ceremony was held at the central secretariat in Model Town Lahore, presided over by secretary general Khurram Nawaz Gandapur and participated by other central and provincial leaders.
Speaking on the occasion, Khurram Nawaz Gandapur stressed the need for establishing peace, tolerance, unity, solidarity and justice in the country. He said the establishment of justice will guarantee peace and prosperity in the country, adding that Pakistan was created with the blood of millions of martyrs and has survived only by the blood of martyrs. He said the enemies and evil forces will remain unsuccessful in causing serious harm to the country because the armed forces and the nation stand completely united to counter the opponents.
He lauded the services of party founder chairman Dr. Muhammad Tahir-ul-Qadri for the creation of unity, tolerance, and solidarity in the country by teaching the workers the vital importance of peace, love, respect for the law and moderation and tolerance. He said in the light of Dr. Tahirul Qadri's guidelines and teachings, PAT has been continuing its journey to build Pakistan stronger and peaceful nation in the comity of the world. He said PAT is striving to reach the destination of a peaceful, stable and prosperous Pakistan. He lamented that unfortunately the country is in grip of worst economic crises in history and Pakistani currency has been made the weakest currency in Asia today.
He expressed sorrow that Pakistani currency has fallen lower than the poorest countries like Afghanistan, Bangladesh and Sri Lanka. The people responsible for the most serious economic crisis in the country's history are those who, in the last 75 years, preferred personal and political interests over the interests of the country. He said that we have to remember that the path leading to peace, love, unity and prosperity passes through dedication, sincerity, and hardwork towards the nation building and fortifying the national institutions.
Vice President Raja Zahid Mehmood, Noorullah Siddiqui, Arif Chaudhry, Dr. Sultan Mahmood Chaudhry, Syed Gulzar Hussain Shah, Hafiz Ghulam Fareed, Saqib Bhatti, Raja Nadeem, Sardar Arif, and other leaders also participated in the ceremony.