Christian delegation visits central secretariat, lauds MQI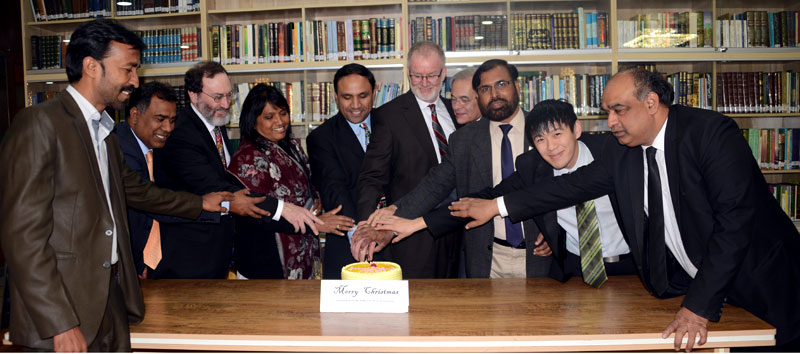 Minhaj ul Quran International (MQI) has been playing an effective role for promotion of interfaith dialogue and harmony in the world and the services rendered by Dr Tahir-ul-Qadri for this purpose are indeed praiseworthy.
These views were expressed by a delegation of Christian leaders from the US during their visit of the central secretariat. The visiting delegates called on the central leaders of the MQI. The Christmas cake was also cut on the occasion. The delegation consisted of John David, David Timothy, Joseph P Knight, Michael Shannon, Ilyas Masih, Shalwanky Gilmore and Samuel Payara.
Sohail Ahmad Raza welcomed the delegation on their arrival at the central secretariat and briefed them about the range of activities and initiatives being done by the MQI in various fields. He said that MQI has been working for building bridges, and promoting interfaith dialogue in the world. He particularly threw light on the educational and health contributions of the MQI particularly in the area of countering terrorism and extremism.
John David, while speaking on the occasion, lauded the efforts of the MQI and said that the movement has been in the forefront of efforts to establish peace, promote harmony and stop the clash of civilization. He said that Dr Qadri has waged a relentless struggle on the single point agenda of peace without any discrimination of caste, creed and color. He said that we understand that he has been making these efforts for interfaith dialogue for last three decades. He said that Dr Qadri's vision of peace is not only a huge reference point for establishment of durable peace at the intellectual level but his work against terrorism and extremism has been recognized as being pivotal.
Christian leader Timothy said that their visit to the central secretariat of the MQI will further add to friendship between the Muslims and the Christians and further strengthen understanding between the two communities. He said that the Christians hold Dr Tahir-ul-Qadri's services in high esteem.
Ilyas Masih said that the Muslims and Christians will have to work together for elimination of terrorism and extremism. He said that the leaders with positive thinking need to be supported.
The delegation visited various directorates and departments of the MQI. Sohail Ahmad Raza thanked them for visiting.