Jailing corrupt people not enough, money needs to be recovered: Dr Tahir-ul-Qadri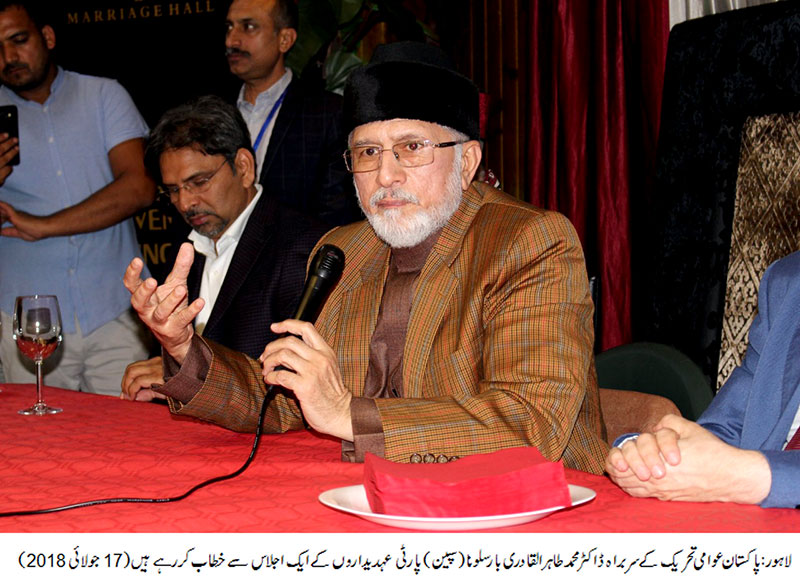 PAT Chairman Dr Tahir-ul-Qadri has said that devaluation of rupee causes the foreign loans and wealth of the corrupt elite to grow. He said that loans have increased over the mark of Rs. 8000 billion, whereas 220 million people are without clean drinking water. He said that the difference between the prices of milk and a bottle of water has remained only marginal. He said that it is the nation that has to differentiate between the leaders and the robbers because no one from outside will come to their rescue. He said that jailing the corrupt leaders is not enough, it is equally important that the ill-gotten and looted wealth of the nation is also retrieved from them. He demanded that Sharif junior should be brought in the dock for his role in the Model Town tragedy.
Dr Tahir-ul-Qadri stated this while talking to delegations of Pakistani diaspora community in Barcelona the other day. He said that making a hero out of convicts will be akin to supporting and promoting corruption and a lack of loyalty towards the nation. He said who does not know that the Sharifs used the power of vote to amass ill-gotten wealth and violated the mandate of the masses at every turn. He said that the elite's slogan of 'respect to vote' means safeguards and protection for the money gotten through money laundering, corruption and illegal sources.
The PAT Chairman said that Pakistan needed dams but they made orange lines, motorways and metros owing to corruption and kickbacks. The children of the poor household needed quality education but they gave them solar lamps and laptops. He said while the people needed quality medical treatment and hospitals, they gave them bridges of steels and Jangla buses. He said that corruption will not end merely through NAB references and the court judgments, stating that all segments of society such as civil society organizations, human rights activists, lawyers and media will have to raise a voice for it.
Dr Tahir-ul-Qadri said that he is happy that overseas Pakistanis put up a strong resistance against the corrupt elements and today no corrupt person can walk freely on the roads in foreign lands. He said that the civil society should mete out the same treatment to those who looted the nation's wealth. He said that Pakistan has joined the list of the most indebted countries as a result of practice of protocol given to the corrupt lot.
He said that PAT is against the present system of elections because under this system, corrupt people, money launderers and those involved in heinous crimes are able to get elected without any legal hiccups. He said that it is through reforms of the system and active role of the people that the country will be rid of the corruption kings.