Decision by Accountability Court a development towards justice: Dr Tahir-ul-Qadri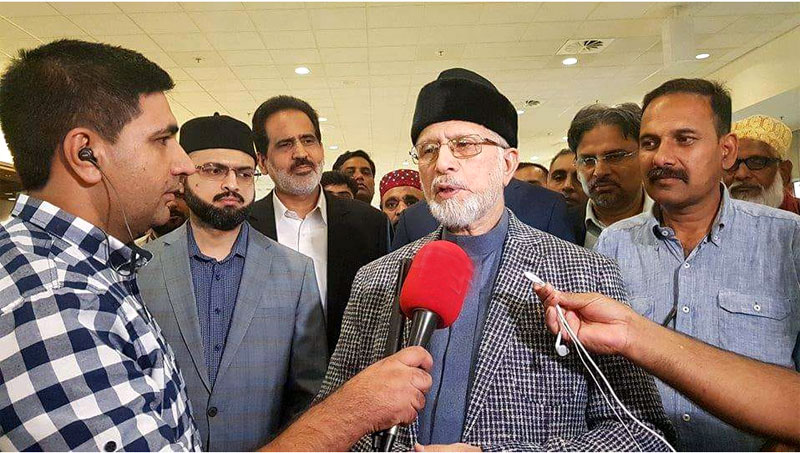 PAT Chairman Dr Muhammad Tahir-ul-Qadri has directed all the chapters of the party that they should express gratitude on the excellent decision of the Accountability and adopt thanksgiving resolutions.
The PAT leader passed these directions at the Heathrow Airport, London, on the occasion of departing for Athens yesterday. He said that while we condemn and criticize the corrupt government officials, the honest among them should also be lauded for their integrity. He said that the decision handed down by the Accountability Court is the first drop of rain, stating that it will be followed by hailstorm and torrential rains.
Dr Tahir-ul-Qadri termed the decision as the first step towards eliminating corruption from the country and its net should be extended to every corrupt who has looted this country and abused his power for personal benefit. He said that the institutions of accountability and justice have scored a huge victory and the process should not cease, stating that Allah Almighty has given us a rare opportunity for reconstruction and solution of the problems faced by the masses.
The PAT Chairman said that the nations and country move forward through a strategy, action and conviction and the opportunity has presented itself, which should be leveraged to its fullest to embark on a process of comprehensive reforms. He said that a system that produces people like Nawaz Sharif should be got rid of. He said that as long as this system stays intact, the infection of corruption, killing and conspiracies would also be present.
Dr Qadri said that it is for the first time that a decision against the powerful individual has come for the first time in our history and we welcome it. He said that the decision of the accountability court is defeat of the mafia and victory of the justice. He said that the NAB prosecutors also deserve to be congratulated on a job well done. He said that we want a similar justice for the martyrs of Model Town, stating that theft of money is a lesser crime than the murder of the innocent people. He said that those who shed blood of innocent people would not get any pardon from the court of Allah. He asked the institutions of justice to play their legal, moral and religious role in the dispensation of justice for the martyrs of Model Town massacre.