Dr Tahir-ul-Qadri reaches Lahore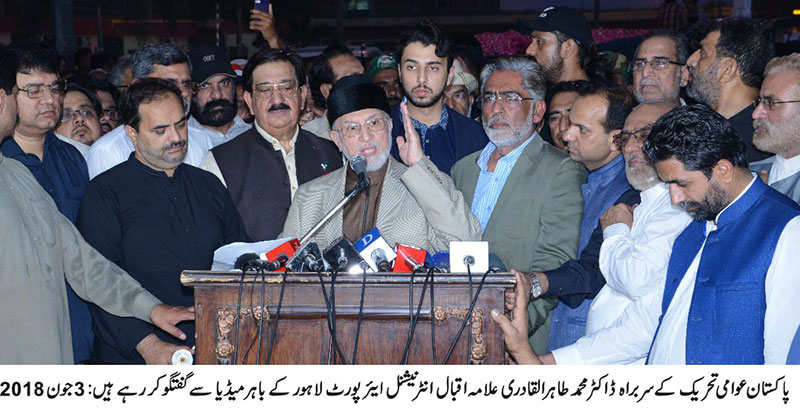 While speaking to the media after landing at the Lahore Airport, PAT Chairman Dr Muhammad Tahir-ul-Qadri has said that the mere arrest of Nawaz Sharif and his family will not be enough. There is a group of killers led by Shahbaz Sharif that killed innocent people in Model Town who have to be held accountability followed by the reform of the system that has given birth to characters such as Nawaz Sharif and Shahbaz Sharif. It is only then that the signs of improvement will emerge. He said that thieves and robbers will continue to remain thieves and robbers even if they switch sides, stating that they may change their garbs but their identity will never change.
Dr Tahir-ul-Qadri said that Nawaz Sharif came to power thrice but did nothing to give respect to the vote and voters. The ministers would wait for months to have a meeting with him whereas he did not like to shake hands with the MPs of his party. He said that it is only after disqualification that the drama of 'giving respect to the vote' started. He said that the former rulers used parliament to delete all such provisions that were meant as qualifications as per the Constitution and drafted a new nomination form based on dishonesty which is against the spirit of the Constitution that was mentioned by Justice Ayesha Malik of the LHC in her judgment. He said that the new nomination form violates the spirit of Preamble of the Constitution, and Articles 62 & 63 as well as the principles of justice and integrity.
The PAT Chairman said that the corrupt system is filing the appeal against the LHC decision in the Supreme Court of Pakistan and the point that would be contended before the apex court is that the certified dishonest people should be allowed to contest elections and become members of parliament once again. And then these dishonest people will elect prime minister, ministers and advisors so that the sinister games continue to be played.
A large number of PAT workers including women, and youth belonging to different forums accorded warm welcome to their leader at the Lahore Airport on his arrival. Khurram Nawaz Gandapur, Basharat Jaspal, Mian Zahid-ul-Islam, Noorullah Siddiqi, Rehman Maqbool, Mian Abdul Qadir, Mian Kashif, Jawad Hamid, Hafiz Ghulam Farid, Mansoor Qasim Awan, Rana Tajammul, Sana Waheed, Huma Waheed, Younis Noshahi, Ishtiaq Hanif Mughal, Shahzad Rasool and others were present at the Airport.
Dr Tahir-ul-Qadri said that the services of ten lawyers have been hired to fight legal case of Model Town and at the moment, attention remains focused on the legal phase to seek justice of the martyrs and their families. He said that we are paying millions of rupees as fees to lawyers out of our own pockets, adding that these fees do not come from Rawalpindi and Islamabad.
Replying to a question, Dr Tahir-ul-Qadri said that the purpose of election is to stop the people with questionable conduct and criminal record to enter parliament. However, if elections cannot stop the dishonest and corrupt elements from getting elected to the assemblies, then there is no use of holding such elections. He said that Nawaz Sharif is asked about the sources of money with which he bought the London flats but instead of giving money trail, he makes political speeches and talks about detonation of nuclear bomb and when he is asked to state things under oath, he refuses to do that. This, in simple words, means that his political speeches are based on lies. He said that fate of Nawaz Sharif has been sealed, stating that through there has been a bit of delay but his ultimate punishment is certain.
The PAT Chairman said that the country faces various crises at the moment and we have to decide about the future of our people and the state of Pakistan. We have to decide about the Constitution whether it has been made for the people or for the thieves, robbers and corrupt elements who occupy the positions of power after getting elected, loot national exchequer, threaten the whole system when Panama-type scandal is detected, then new elections are held and the same group of elite gets positions of authority. He asked how long this game will continue to be played.
Reacting to Nawaz Sharif's statement that he appeared in the anti-terrorism court eight times, Dr Qadri said that the former prime minister appeared in the court as a criminal, corrupt and robber and the families of the martyrs of Model Town have appeared 220 times in the anti-terrorism court for justice. 'You will soon be heard crying behind the bars. Your family and brother will become an example due to their crimes.' He added.
He said that we await the day when justice will be dispensed in Model Town case. He further said that giving permission to those who do not meet the criteria laid down in Articles 62 and 63 to contest elections is a conspiracy against the integrity of Pakistan. He said that the conduct of the elections on July 25 is not a problem. The real challenge is to how to get rid of the reign of robbers who have been looting this country and how to purge the system.