29th Foundation Day of PAT celebrated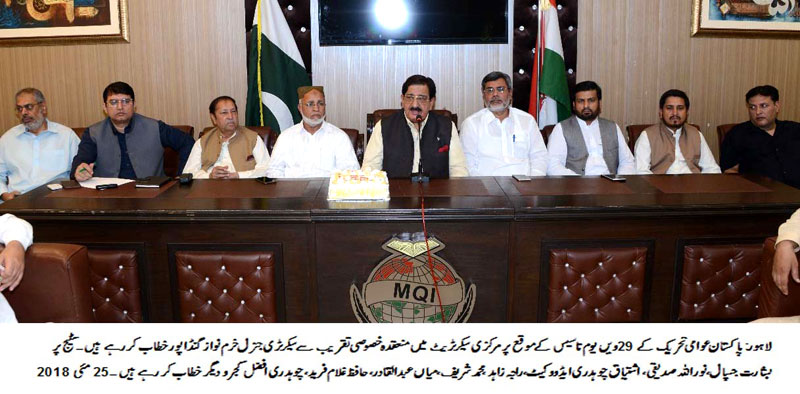 A meeting marked the 29th foundation day of PAT in which the heirs of the martyrs were presented tributes and they were congratulated for perseverance in their demand for justice. A cake was also cut on the occasion. Another resolution expressed the resolve of PAT leadership and workers across various tiers to continue working under the inspiring leadership of Dr Tahir-ul-Qadri for change in the system through peaceful and democratic struggle. Khurram Nawaz Gandapur, Basharat Jaspal and Ishtaiq Chaudhry Advocate spoke on the occasion.
Khurram Nawaz Gandapur said that the PAT is a party of the middle and lower classes. He said that PAT Chairman Dr Muhammad Tahir-ul-Qadri highlighted the importance of Articles 62 and 63 of the Constitution. He said that it is due to these Articles that the nation has been rid of the top corrupt leaders. He said that the struggle of Dr Tahir-ul-Qadri is democratic whose only objective is to seek reforms in the system so that common man could reach the assemblies. He said that the system of corruption created intellectual chaos and confusion, stating that time to bury this corrupt system has come. He said that real democracy will not be established in the country without revamping of the institutions and change in the system.
Khurram Nawaz Gandapur said that Pakistani politics is all about negation of democratic principles and sale of loyalties. He said that real change will come only when the system is reformed and its institutions are reset to serve the masses. He said that we want a system similar to the one that was implemented in the state of Madina where there would be zakat givers, not takers. He said that PAT's politics is not confined to bringing people into power and then removing them from there, stating that we do not believe in the power politics.
He said that reconstruction of the country is the politics of PAT and despite severe resource constraints, it continues to hold on to ideology with a commitment. He said that it is the ideology that will win over wealth and power. He said that PAT continues to spread its message across the country under the leadership of Dr Tahir-ul-Qadri.
Basharat Jaspal said that on the occasion that when the elections draw near, Asif Zardari and Sharif brothers start demonizing each other and once the exercise is over, they invite each other on parties. He said that hypocritical politics has damaged county.
Mian Abdul Qadir, Chaudhry Afzal Gujjar, Raja Zahid Mahmood, Hafiz Ghulam Farid, Shafaqat Mughal, Ch Muhammad Siddique, Qari Mazhar Farid, Iqbal Doger, and others were present on the occasion.