Green revolution only option to give bright future to people: Dr Hussain Mohi-ud-Din addresses Azm-e-Inqilab Convention
Those hatching conspiracies against green revolution to be swept away in people's Tsunami
Power remains concentrated within a select group of powerful families while people go through motion of voting
Family dynasties and dictatorship established in the name of democracy
Dr Tahir-ul-Qadri's vision to be conveyed to every nook and corner of the country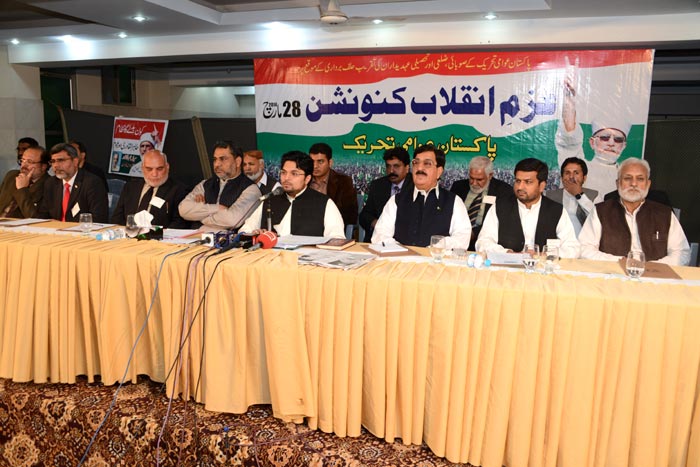 President of Pakistan Awami Tehreek Federal Council, Dr Hussain Mohi-ud-Din Qadri, has said that those weaving a web of conspiracies against green revolution will be swept away in people's Tsunami. He said that every line drawn by the ruling elite in the name of changing people's destiny would end up deepening divisions, adding that the nation should make a firm resolve to get rid of the looters who had been plundering them every now and then. He said that power was transferred from one group of plunderers to the other during last 67 years and the people were used as pawn in the power games going through the motions of voting. He said that the results of May elections proved that dictatorship of a few powerful families was intact in the name of democracy. He said that those who made heaps of properties and wealth in the foreign lands were not willing to give even an inch of land to the poor in the country.
Dr Hussain Mohi-ud-Din Qadri expressed these views while addressing the hundreds of office holders at 'Azm-e-Inqilab Convention' here in Model Town, Lahore today. He also administered oath to the newly elected office bearers at this occasion. PAT President Sheikh Zahid Fayyaz, Secretary General Khurram Nawaz Gandapur, Qazi Faiz-ul-Islam, Jawad Hamid, Sajid Mahmood Bhatti, Bashrat Aziz Jaspal, Zulifqar Chaudhry, Ishtiaq Chaudhry, Raja Zahid, Raja Nadeem, Khalid Durrani, Walyat Sahi, and Zahid Bokhari were also present in the Convention.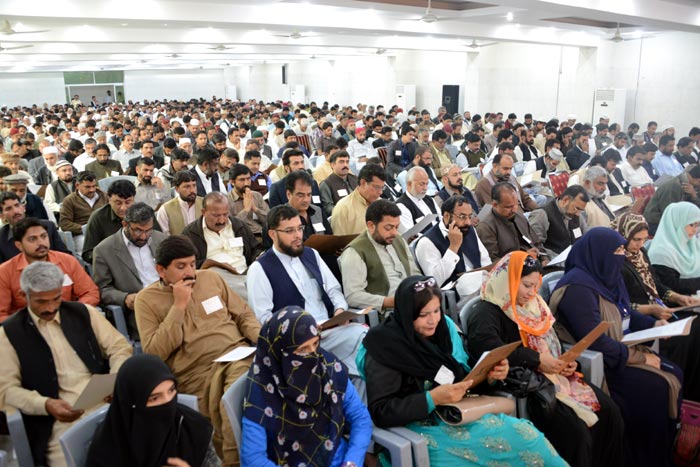 PAT Federal Council President said that the government, at times, gave financial benefit of worth billions of rupees to their cronies through manipulation of dollar in terms of willful appreciation and depreciation in its value vis-à-vis rupee and at other times, they begged the terrorists to halt their terrorist activities through the lure of money. He said that this was a conspiracy to green revolution. He asked the nation to wake up and see if some kind of bargain was being resorted to for a certain objective. He said that a bargain was stuck against Russia in the past and it needed to be seen whether the same act was not being repeated against Syria and Lebanon today.
Dr Hussain Mohi-ud-Din Qadri said that over 50,000 Pakistanis had lost their lives in incidents of terrorism, adding that 1000 innocent people were martyred in the last three months alone. He asked the nation to wake up from slumber and join their hands together for revolution. He said that there were 22000 religious seminaries in Pakistan and 88% of the students did not go to these institutions out of any love and passion for religious education but due to the fact that their parents did not have resources for their education, upbringing and basic needs. He said that only 3.12% of children opted for general education, while the ratio of those choosing religious seminaries for education was 5%.
Dr Hussain Mohi-ud-Din Qadri further said that those running the economy on the oxygen of foreign aid and loans were beholden to their vested interests and imperative of staying in power. He said that the people would have to stand up to the record breakers of corruption. He said that the rulers who talked of ending load-shedding by 2018 were incompetent to say the least, adding that recurring increase in power tariff had broken the back of the people. He further stated that recent 2.50% of raise in prices of electricity added to people's miseries at a time when they were already under the burden of tremendous inflation. He said that the scourge of price hike had brought even the middle class to the brink of poverty. He said that the Opposition's consideration to save power in provinces had eliminated their role in the Parliament. He said that prices of POL products were decreased at the international level while the people were being grinded here in Pakistan.
Dr Hussain asked the PAT office holders and workers to work hard, day in and day out, to convey Dr Tahir-ul-Qadri's vision to the people at the grassroots. He said that oppressive and corrupt system would have to be sent packing to give prosperous and bright future to the succeeding generations, further saying that revolution was the only option available to make this happen.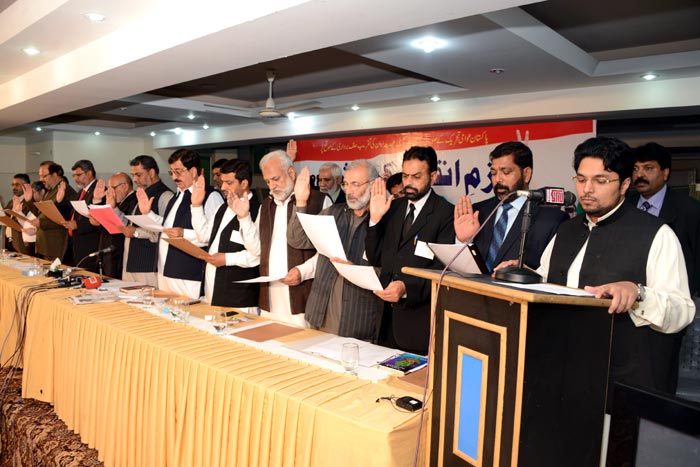 Dr Hussain Mohi-ud-Din Qadri administering oath to the new office bearers of Pakistan Awami Tehreek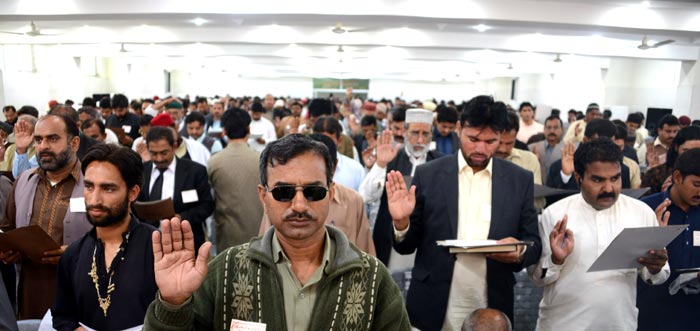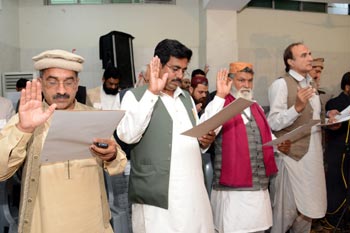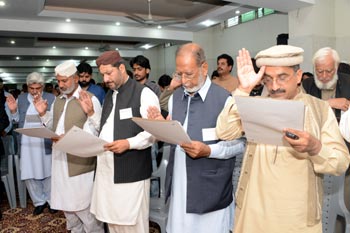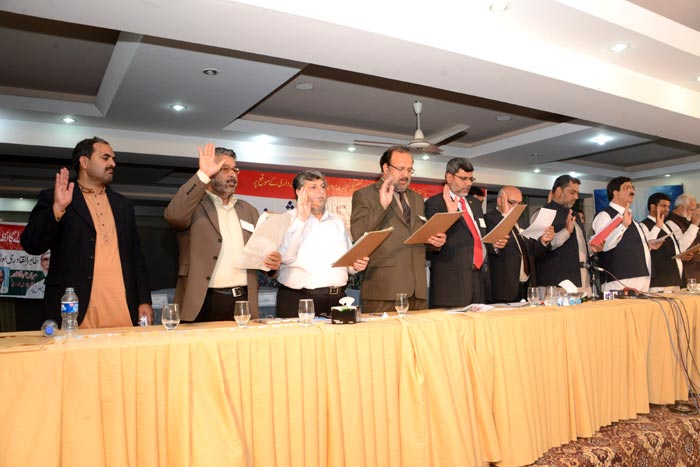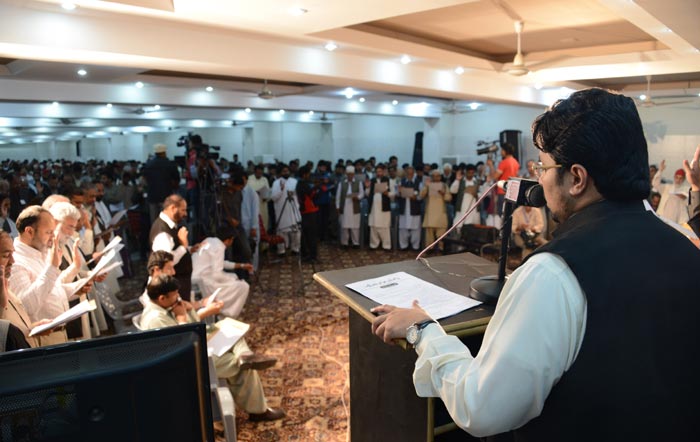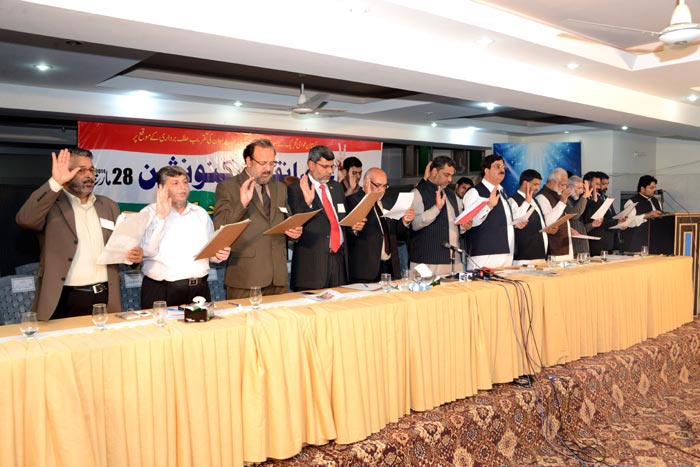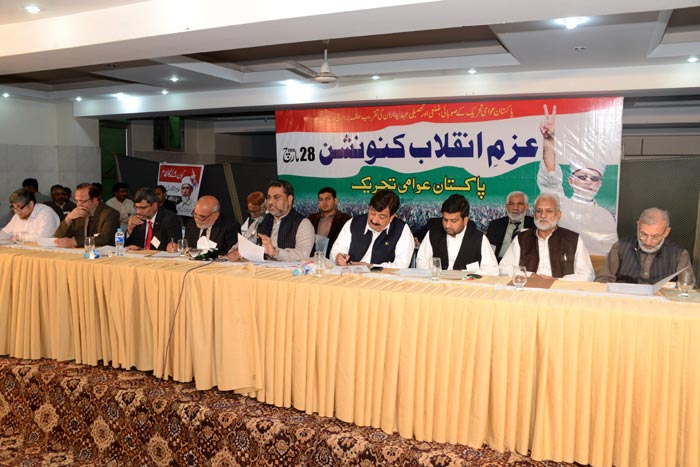 Sheikh Zahid Fayaz (President PAT) addresses Azm-e-Inqilab Convention