Indian SC's order of inserting 'Vote For None' option in voting machine a slap on face of ECP: Dr Tahir-ul-Qadri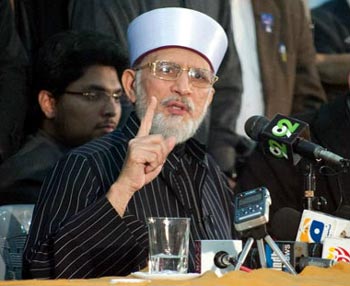 Dr Muhammad Tahir-ul-Qadri, the leader of Pakistan Awami Tehreek, has described the Indian Supreme Court's order to the Indian Election Commission to add 'vote for none' button in the voting machine as a slap on the face of the Pakistan Election Commission. He said that according to the Indian Chief Justice, strengthening the role of voter was an important ingredient of democracy and that the action was meant to ensure freedom of expression and the voter's real freedom at the hustings. He said that this step would force the political parties to field good candidates in the elections.
Dr Tahir-ul-Qadri made these remarks while addressing a central working council of Pakistan Awami Tehreek (Punajb) in Lahore today. PAT Secretary General Khurram Nawaz Gandapur, Bishrat Aziz Jaspal, Mian Zahid Javed, Mushtaq Nonari Advocate, and other provincial leaders were present on the occasion.
Dr Tahir-ul-Qadri said that the Indian Apex Court considered this matter of paramount importance for strengthening of democracy wherein the voters were given the right to reject all candidates. He said that this step would not only strengthen democratic institutions but also purge the democratic process of bad characters. He said that contrarily, the Pakistan Election Commission successfully presided over sham elections that were marked by rigging, duress, and use of money to buy votes but it failed to incorporate any of the reforms proposed by Pakistan Awami Tehreek including insertion of 'vote for none' option in the ballot box, and scrutiny of candidates under Articles 62, 63 and 218.
Dr Qadri said that he still believed that the Election Commission of Pakistan was constituted unconstitutionally and consequently the elections it held were also illegal. He said that reign of a few families stayed intact in Pakistan in the name of democracy. He said that the neighbouring country India took a step forward in the direction of strengthening democracy while the democratic system continued to be violated, and made fun of in Pakistan.
Dr Tahir-ul-Qadri said that the Indian Supreme Court was playing a proactive role in stabilizing democracy by doing everything that helped the cause including the strengthening of the Election Commission. He said that their constitutional institutions and democracy were getting stronger by the day as a result of these efforts, adding that unconstitutionally composed ECP was being protected in Pakistan. He said that it was due to these factors that democracy had been rendered into a joke here while terrorism and extremism held sway and the people of Pakistan remained deprived of the basic necessities of life.
Geo News Ticker