The country to witness worst post-election horse-trading: Dr Tahir-ul-Qadri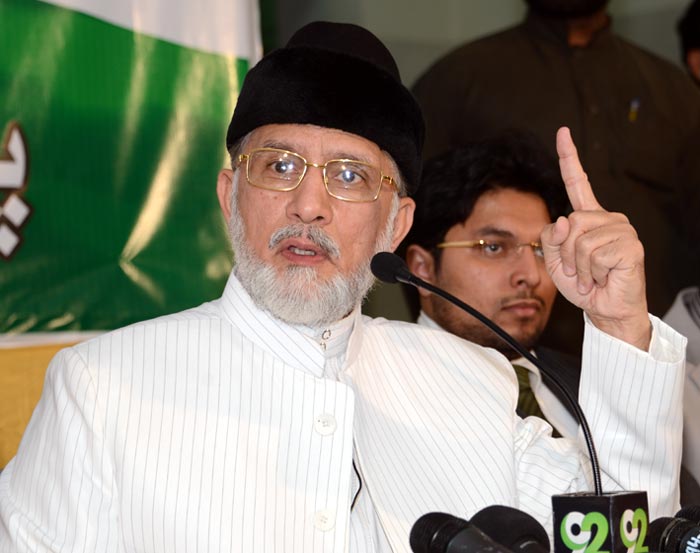 Dr Muhammad Tahir-ul-Qadri, the leader of Pakistan Awami Tehreek, has said that attendance of the people in the public sit-ins on the polling day will be a vote against the current electoral system. He extended his congratulations in advance to those who had decided to boycott the elections. He said that the worst kind of horse trading would take place after the polls and PAT and its workers could not become part in this crime.
Dr Tahir-ul-Qadri said that we passionately believe in democracy and vote but the current electoral system violates the sanctity of vote, adding that both the government and opposition would be established through corruption. He said that the winning horses would get highest price tags and bags full of money were ready to buy their loyalties and those choosing to vote under the electoral system would be ashamed to see the sorry spectacle of the worst horse trading in the country's history.
Dr Muhammad Tahir-ul-Qadri expressed these views on his return from Europe while addressing a heavily crowded press conference in the central secretariat of Pakistan Awami Tehreek. Dr Hussain Mohi-ud-Din Qadri, Dr Raheeq Abbasi, Khurram Nawaz Gundapur, Sheikh Zahid Fayyaz, Qazi Faiz-ul-Islam and other leaders were present on the occasion.
Dr Tahir-ul-Qadri said that it was regrettable that the institution which was known for taking suo moto notices on each and every available opportunity was observing silence on the prevailing state of affairs. He said that illegal and immoral Election Commission, which was established unconstitutionally, was telling lies to the people every day.
Dr Tahir-ul-Qadri disclosed that political and religious parties had been getting funds from East and West in the name of democracy and Shariah. He asked as to why they were not banned? He further said that the leaders of such parties should be behind the bars. He asked whether the parties that got billions of rupees in foreign funding were loyal to the state and society. He said that the current electoral system was enemy of Pakistan's sovereignty.
Dr Qadri said that MQI's and PAT's financial integrity was above board, adding that if it was proved that he or his organization got even a single penny from any country or organization, he was ready for any punishment.
In reply to a question regarding disclosing the names of the parties that were receiving foreign funding, the PAT leader said that he would reveal the names when anyone asked him. He, however, added in the same breath that the Pakistani agencies were in the knowledge of all matters. He stated on oath that the religious and political parties got substantial money from foreign countries for the purpose of running election campaigns. He asked as to how the parties that were getting funding from abroad for election purpose would protect the national sovereignty and integrity?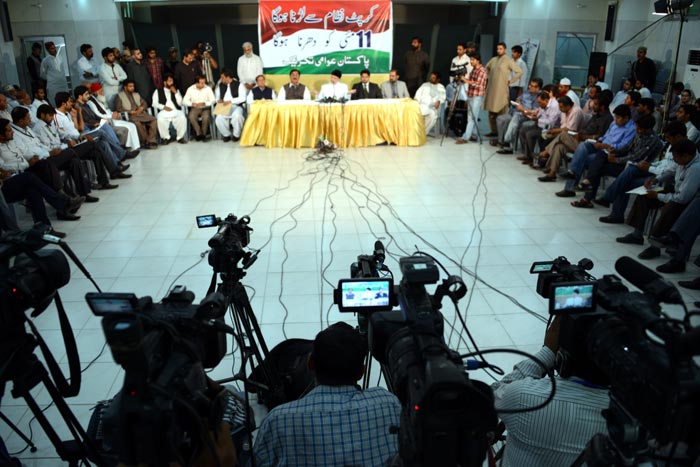 Dr Tahir-ul-Qadri said that those who got fake oaths were only to be found eligible for elections in the Pakistani system while there was not even a single such instance in other countries. He said that according to a PEMRA report, the political parties were running political campaigns of worth 250 to 300 billion rupees on electronic media and the Election Commission's stipulation of 1 million or 1.5 million rupees was being violated with abandon in every constituency.
Dr Qadri said that fake Parliament, which would come into being after the polls on May 11, would defang Articles 62 and 63, adding that the Election Tribunals paved the way for it when it ridiculed Article 62 during the so-called scrutiny process.